Audi A7 Sportback 50 TDI 2018 UK review
Audi A7 Sportback 50 TDI 2018 UK review
https://www.autocar.co.uk/car-review/audi/first-drives/audi-a7-sportback-50-tdi-2018-uk-review
Similar to the new CLS, mild-hybrid technology has made its way into the latest A7. This comprises of a 48-volt primary electrical system that can allow the Audi's V6 to shut down when coasting between 34 and 99mph, using a belt alternator starter to restart the engine when you touch the throttle. Coupled with improved stop/start technology that uses the front cameras to detect when the car ahead of you moves away, fuel consumption is said to be improved by 0.7 litres per 100 kilometres – an additional 62 miles in old money.
On the road, the technology works rather well. Haptic feedback from the throttle lets you know the time is right to lift your foot off the pedal, with the engine cutting out a split second afterwards. Were you not looking keenly at the rev-counter on the 12.3-inch Virtual Cockpit LCD screen – which is standard fit across the A7 range – you'd likely not notice the fact the engine cut out in the first place. The Belt Alternator Starter that restarts the engine is similarly unintrusive.
Unfortunately, the same can't be said of the manner in which our Sport specification test car's optional sport suspension controlled the car's ride. At low speed, the A7 feels jittery, with the firm set-up sending a tiresome amount of vibration to your backside. This was mitigated slightly at speed, although undulations do cause the suspension to compress in a jarring manner. 
A solution – which we'd advise going for – is to spec the optional adaptive air suspension, which makes the A7 far more comfortable and compliant on less-than-stellar road surfaces. Just be prepared to part with £2000 for the privilege. As a side note, though, Audi curiously didn't have any A7s with the conventional steel spring suspension available for testing.
While the A7's ride might not be exactly stellar, at least the cabin is a comfortable place to be. It's all very modern and futuristic, with the new dual touchscreens for the infotainment system lending the interior a very minimalistic feel; physical switchgear is few and far between here. Build quality is sound – as you'd expect from Audi – and there's plenty of adjustability in the seats and steering column.
Those in the back will have little to complain about, too; although the middle seat is thoroughly unsuitable for anyone other than children, owing to the large transmission tunnel and the fact that your head immediately comes in contact with the roof.
Noise from the 3.0-litre diesel engine is well isolated at a cruise, and even under heavy acceleration the sound it produces wouldn't be best described as unpleasant. It's deep and bassy in its timbre, and fits in well with the A7's sophisticated character. It's also respectably quick; its 457lb ft of torque is available from just 2250rpm, so overtaking moves are dispatched with ease.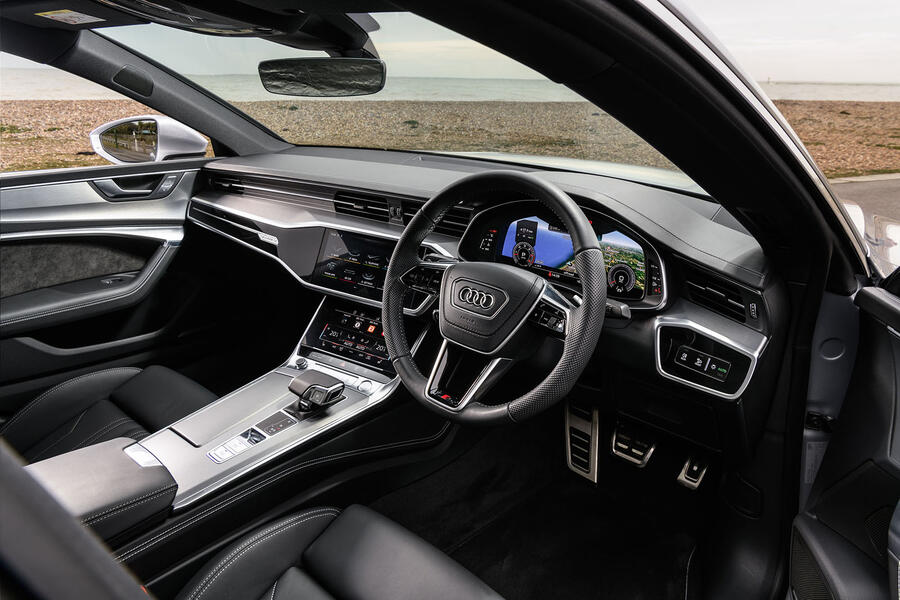 Car News
via Autocar RSS Feed https://www.autocar.co.uk/
March 14, 2018 at 10:51PM
https://www.autocar.co.uk/sites/autocar.co.uk/files/styles/car_review_image_190/public/images/car-reviews/first-drives/legacy/audi-a7-uk-press-4216.jpg