DS X E-Tense concept to demonstrate vision for 2035
DS X E-Tense concept to demonstrate vision for 2035
https://www.autocar.co.uk/car-news/new-cars/ds-x-e-tense-concept-demonstrate-vision-2035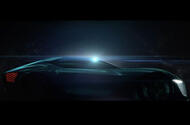 French brand will present futuristic concept this month
DS will reveal a new concept called the X E-Tense that demonstrates its vision for 2035.
Previewed in a video, the car will be revealed later this month with a futuristic design and forward-thinking technology.
Although DS's video gives little away, it appears to show a two-door coupé with a long bonnet. The car has detailed lighting designs with a crosshatch pattern at the rear.
The car's name suggests it could have technical links to the E-Tense concept revealed in 2016. That car, a two-seat, high-performance GT, produced 402bhp and 381lb ft of torque from its lithium-ion batteries.
Claimed range for that concept, which used a monocoque carbonfibre chassis, was 193 miles (or 224 miles in pure urban driving).
DS is the quickest adopter of electric power within the PSA Group. The brand, which experienced a 38.5% decline in demand last year, is planning to capitalise on market shifts towards alternatively fuelled cars by creating an electrified version of every model in its range.
The new 7 Crossback will be the first to start the trend when an E-Tense version arrives next year with 296bhp and an electric-only range of 60 miles. Another smaller electrified SUV will arrive shortly after.
Read more
Carlos Tavares: electric cars could be more problematic than people think
Car News
via Autocar RSS Feed https://www.autocar.co.uk/
April 17, 2018 at 02:25PM
http://img.youtube.com/vi/qRfA4swMEPw/0.jpg