Hyundai i30 N 2018 UK review
Hyundai i30 N 2018 UK review
https://www.autocar.co.uk/car-review/hyundai/i30-n/first-drives/hyundai-i30-n-2018-uk-review
Even with that 24bhp power deficit to its Performance Package sibling, the standard i30 N doesn't feel as though it's in any way lacking. Its engine, from Hyundai's Theta family, develops the same 260lb ft as the Performance Package, which is delivered between 1450 and 4500rpm, and makes for a 0-62mph sprint time of 6.4sec.
It's a muscular engine, too, and thanks to the presence of a turbocharger, that twisting power is easily accessible. In fact, the ease with which you can tap into it is almost a bit of a shame, because it means you won't have to work the impressively slick six-speed manual gearbox quite as much as you might like to.
The engine will pull reasonably happily from just below 2000rpm, although the manner in which the power is delivered isn't the most linear. Instead it feels as though it arrives all of a sudden, as soon as the turbos have spooled up. It's not alarming, but is something to bear in mind before putting your foot down.
More troubling is the rather violent torque steer that comes with using all of the accelerator pedal's travel. Coupled with front tyres that can scrabble for traction when you accelerate hard at low speed, it makes the Hyundai feel like quite the brute, and helps make a case for forking out the additional £3000 for the Performance Package with its electronic limited-slip diff and stickier Pirelli tyres.
A wealth of adjustability is available courtesy of five driving modes: Eco, Normal, Sport, N Mode and N Custom. Intriguingly, though, even in Normal the i30 N feels every bit the performance car it has been designed to be. The steering is surprisingly hefty, the ride is firm but not unforgiving and there's plenty of responsiveness from the throttle and engine. Body control is well contained through faster bends, too, and you never get the impression that there's any particular shortage of lateral front end grip. It's arguably the best of all the driving modes, as dialling everything up causes the i30 N's brutish character to become even more prevalent.
Sport mode is just about bearable on a bumpy country road, although particularly rutted surfaces can make it feel a touch unsettled. N Mode, meanwhile, isn't for the faint of heart. At low speeds, the ride is so firm and unforgiving that the base of your spine feels as though it's doing the dampers' work for them, and the steering weights up even more without a properly noticeable increase in feel or communication with what the front tyres are doing. At this point you can feel like you're fighting, as opposed to working with the car to thread it down a challenging section of road.
While you'd have to be on a particularly smooth track to really get the most out of N Mode, there is one big positive: the overrun. Lift off the throttle after a sustained period of acceleration, and small amounts of fuel will ignite in the exhaust, causing gunshot-like pops and bangs to explode out the back of the car. It's a bit of hooliganism, and that's never a bad thing. If you want those pops and bangs all of the time, but don't fancy dealing with the harsh ride, N Custom will let you pick and choose between all of the available variables to create your own ideal driving mode.
While the driving experience shows where Hyundai's time and money have been well spent, the interior gives the impression that it's missed out somewhat. Aside from some relatively low-key (although comfortable and supportive) sports seats and light blue drive-mode buttons on the wheel, the i30 N feels largely identical to the car on which it's based, meaning there's scratchy plastic en masse.
That's okay, though, as it pays to remember the Hyundai is a smidge over £4100 cheaper than a five-door Volkswagen Golf GTI, so levels of material richness or perceived quality were never going to be quite as high. That the i30 N has an additional 17bhp (albeit slightly less torque), comparable standard equipment and a five-year warranty shows its huge appeal as a value proposition.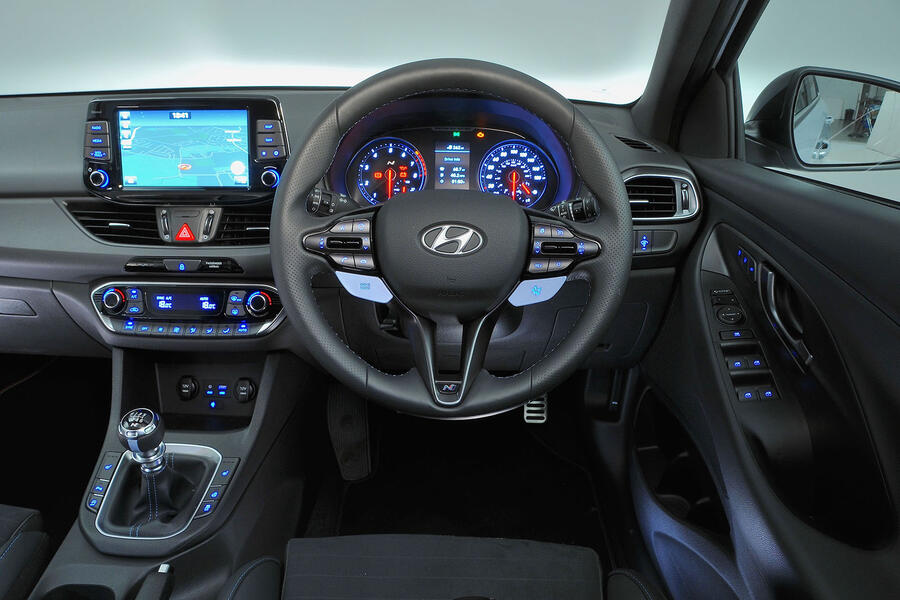 Car News
via Autocar RSS Feed https://www.autocar.co.uk/
April 17, 2018 at 01:21PM
https://www.autocar.co.uk/sites/autocar.co.uk/files/styles/car_review_image_190/public/images/car-reviews/first-drives/legacy/1-hyundai-i30n-2018-uk-review-hero-front.jpg