Opinion: How hard is it to name a car firm anyway?
Opinion: How hard is it to name a car firm anyway?
https://www.autocar.co.uk/opinion/industry/opinion-how-hard-it-name-car-firm-anyway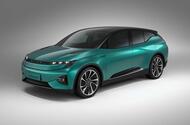 Byton revealed its concept SUV today
Byton's bosses reveal how they came up with the brand name – and why
Starting a new car company is hard. Simply designing a vehicle from scratch is an incredibly difficult process. Making that car is even harder. And manufacturing it on a large scale adds several notches to the degree of difficulty (just ask Tesla).
Compared with making the hardware, coming up with a name might not seem all that difficult. But it is. Especially when you consider that several major firms have been around for more than 100 years, giving the likes of BMW and Ford tremendous inbuilt brand equity. So any newcomer needs a name that carries a significant message, a statement of intent.
There are plenty of new brands cropping up at the moment, from the likes of Geely's Lynk&Co to Volkswagen's mobility brand Moia, and even Seat's decision to spin off Cupra into a fully fledged sub-brand. But they're not the only ones.
Byton electric SUV concept revealed
Future Mobility Corporation was formed by a group of veteran industry executives, led by ex-BMW i boss Carsten Breitfeld, in 2016, with the intent of creating a user-focused electric, connected, autonomous range of vehicles. At that point, they had plenty of ideas and concepts but, crucially, no brand name.
They eventually settled on Byton. The task of finding that name was led by marketing chief Henrik Wenders, who said it was a fun – if intimidating – challenge. "Sometimes you feel like you open the window and look through it, and there's nothing," he said. "You're so afraid, you close the window and don't want to open it again."
So how did the search for Byton happen? "We started with certain clusters or words," said Wenders. "The concepts of electrification and digitalisation were key for us, so we looked at that.
"In the age of digital, we talk about bits and bytes. That was the first link. Then you have to leave the storytelling area and it becomes a phonetic discussion: whether you like it or dislike it, how does it feel.
"B is a very strong letter; words that start with B are prominent and powerful. And the 'on' ending gives it a premium feel; think of Aston Martin or Wellington."
The name Byton was suggested by one of the teams within the company; Wenders proudly pointed out that it wasn't chosen by a branding agency. He added: "In the beginning, it was a nightmare and the search seemed to go on forever. When I had an email with 'Byton' in, it just clicked and I went: 'That's it.' I heard thousands of names, but that was it.
"And then I called the lawyer."
Byton to reveal electric saloon concept as CES Asia in June
Lawyer? That's because, in the 21st century, legal and multicultural considerations are just as important as branding ones.
Wenders explained: "The biggest challenge is the trademarking: there are more than 33 million and it's not just the trademarks but the similarities, visual and phonetic. You have to look at how you pronounce it in various languages. For example, BMW is only three letters, but they're pronounced in many different ways in different countries. Byton sounds very similar in Chinese to how you say it in English or German."
So there you go: that's how Byton became Byton. Does it work? That's personal opinion, probably. It certainly ensures the digital aspects of the brand are at the forefront – as they are in the concept car's huge touchscreen dashboard display and tablet built into the steering wheel.
What do you reckon, then? Does Byton work? Or have you got a better name for a car firm?
More content:
China to remove ownership limits on foreign car companies by 2022
Suzuki Swift Sport 2018 review
Car News
via Autocar RSS Feed https://www.autocar.co.uk/
April 17, 2018 at 08:20PM
https://www.autocar.co.uk/sites/autocar.co.uk/files/styles/car_review_image_190/public/images/car-reviews/first-drives/legacy/byton_concept_34_front-02_0_0.jpg