Trotz Verletzung: Dani Pedrosa fährt in Austin
Trotz Verletzung: Dani Pedrosa fährt in Austin
https://www.motorsport-total.com/motogp/news/trotz-verletzung-dani-pedrosa-faehrt-in-austin-18041706
(Motorsport-Total.com) – Das Honda-Werksteam rückt in gewohnter Besetzung zum dritten Rennen der MotoGP-Saison 2018, dem Grand Prix von Amerika auf dem Circuit of The Americas in Austin, an. Neben Marc Marquez, der jedes einzelne der bislang fünf MotoGP-Rennen in Austin gewonnen hat, ist am kommenden Wochenende auch Dani Pedrosa mit dabei.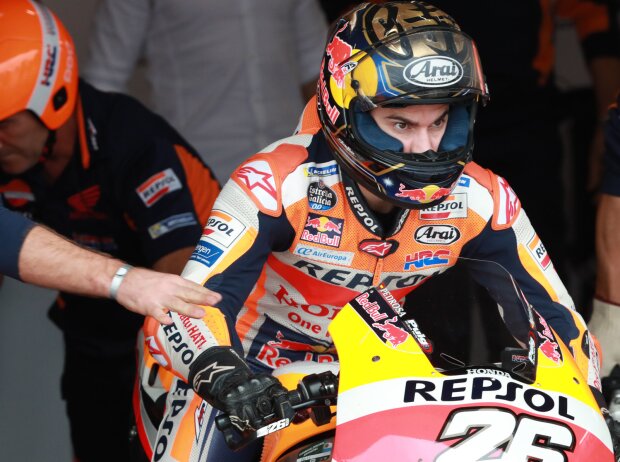 Dani Pedrosa will in Austin trotz Handverletzung versuchen zu fahren Zoom
Pedrosa hatte sich beim zurückliegenden Grand Prix von Argentinien in Termas de Rio Hondo verletzt, nachdem er im Zweikampf mit Johann Zarco per Highsider von seiner RC213V abgestiegen war. Der Spanier klagte nach dem Sturz über Schmerzen im rechten Handgelenk und wurde in der darauffolgenden Woche in Barcelona operiert.
Die Operation liegt nun eine Woche zurück und Pedrosa fühlt sich fit genug, um es in Austin zu probieren. "Seit der Operation fühle ich mich von Tag zu Tag ein kleines bisschen besser. Ich mache Übungen, um die Beweglichkeit zu verbessern und die Entzündung zu mindern. Langsam aber sicher wird die Muskulatur wieder stärker und das lässt mich Fortschritte erkennen", so Pedrosa.
Allerdings merkt der Honda-Werksfahrer mit der Startnummer 26 auch an: "Wie gut die Aussichten für das Wochenende sein werden, lässt sich schwer vorhersagen. Erst, nachdem ich wieder auf dem Bike saß, werde ich meine Situation besser einschätzen können. Ungeachtet dessen steht für mich aber fest, dass es sich lohnt, anzureisen und es zu versuchen."
Mit der Entscheidung, dass Pedrosa nach Austin reist, seht auch fest, dass Stefan Bradl an selbigem Wochenende kein MotoGP-Comeback geben wird. Der Deutsche, der zuletzt beim Saisonfinale 2016 in Valencia in der Königsklasse der Motorrad-WM antrat, war als möglicher Pedrosa-Ersatz im Gespräch, zumal er inzwischen Honda-Testfahrer ist.
Car Racing
via Motorsport-Total.com http://www.motorsport-total.com
April 17, 2018 at 07:37PM
https://www.motorsport-total.com/img/sm/196913_mst.jpg?rf=1523982667