Andrea Dovizioso agrees new Ducati MotoGP deal through 2020
Andrea Dovizioso agrees new Ducati MotoGP deal through 2020
https://www.autosport.com/motogp/news/136115/dovizioso-agrees-to-stay-at-ducati
Ducati has announced its star MotoGP rider Andrea Dovizioso will continue with the team until the end of the 2020 season.
Dovizioso, who has been a Ducati factory rider since 2013, mounted the team's first title challenge since the Casey Stoner era last year.
But contract renewal negotiations were made difficult as Dovizioso upped his financial demands, having previously had a significantly smaller salary than that of underperforming team-mate Jorge Lorenzo.
Despite Dovizioso having had talks with Honda and Suzuki, and rejecting Ducati's first offer, the 32-year-old said on Thursday at Le Mans that he was getting "closer" to a renewal.
The team then officially confirmed on Friday morning that he would stay on for another two years.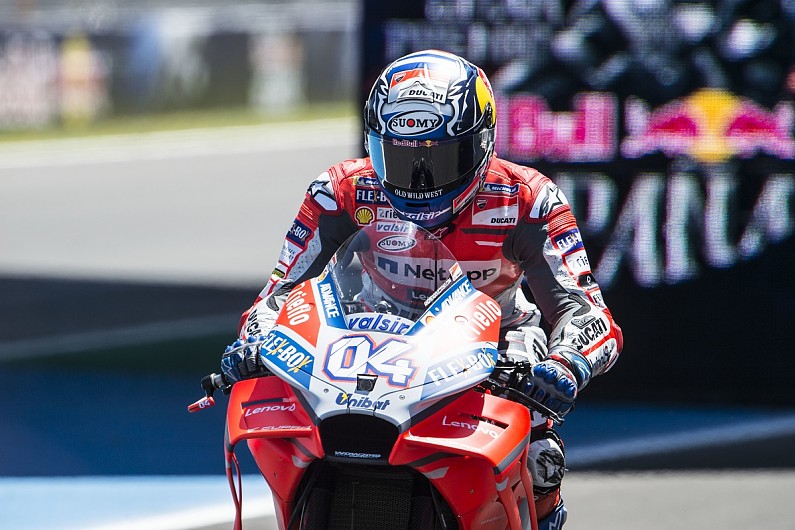 Dovizioso is fifth in the standings following his dramatic crash at Jerez that also involved Lorenzo and Dani Pedrosa.
The identity of Dovizioso's team-mate remains uncertain, with Lorenzo considering a move to Suzuki.

The agonising choice that will define Lorenzo's legacy
If the three-time MotoGP champion leaves, Pramac Ducati duo Jack Miller and Danilo Petrucci are the prime candidates to replace him.
Ducati is the third team to have announced 2019 rider plans during the French Grand Prix week, following Thursday's news that Alex Rins and Aleix Espargaro would spend two more seasons at Suzuki and Aprilia respectively.
Car Racing
via All news – Autosport https://www.autosport.com
May 18, 2018 at 02:27PM
https://d2d0b2rxqzh1q5.cloudfront.net/sv/1.67/dir/89b/image/89b75aeb3ed0ee87e83ef27c672ff36f.jpg