Le Mans extends deal to host MotoGP's French Grand Prix to 2026
Le Mans extends deal to host MotoGP's French Grand Prix to 2026
https://www.autosport.com/motogp/news/136108/le-mans-extends-motogp-race-deal
The Le Mans Bugatti Circuit will continue to play host to the French round of the MotoGP championship until at least 2026.
Le Mans replaced Paul Ricard as the home of the French Grand Prix in 2000, and two years ago it signed a fresh deal to guarantee its place on the calendar until at least the end of 2021.
Now, three years before that deal was due to expire, a further extension has been secured that will keep Le Mans on the MotoGP calendar for almost a full decade to come.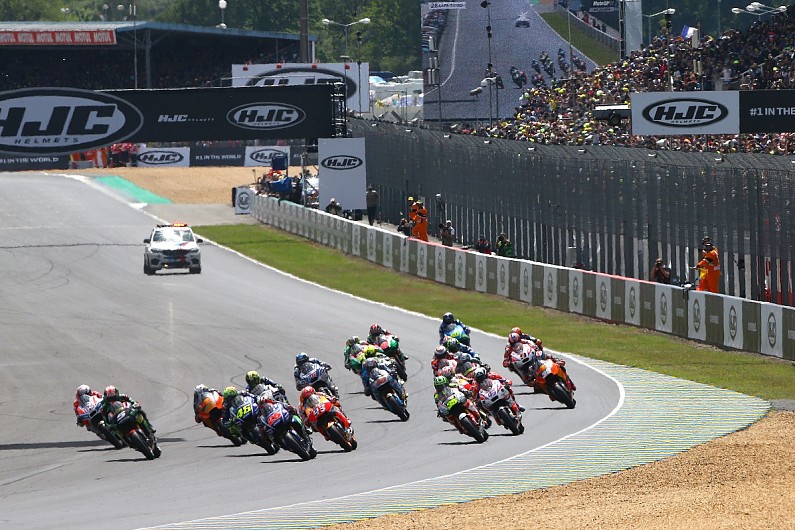 "The Grand Prix of France is a key event on the MotoGP calendar and it always draws incredible crowds," said Carmelo Ezpeleta, CEO of MotoGP promoter Dorna.
"Our long-standing partnership with [race promoter] Claude Michy has been tremendous in ensuring the outstanding event that the French Grand Prix is today and I am very pleased to consolidate our presence in France for another five years."
Car Racing
via All news – Autosport https://www.autosport.com
May 18, 2018 at 12:34PM
https://d2d0b2rxqzh1q5.cloudfront.net/sv/1.67/dir/2b0/image/2b083bed3b3efb432969fac4202754dc.jpg