NASCAR All-Star Race 2018: Format, Start Time, Lineup, TV Schedule and More
NASCAR All-Star Race 2018: Format, Start Time, Lineup, TV Schedule and More
http://bleacherreport.com/articles/2776572-nascar-all-star-race-2018-format-start-time-lineup-tv-schedule-and-more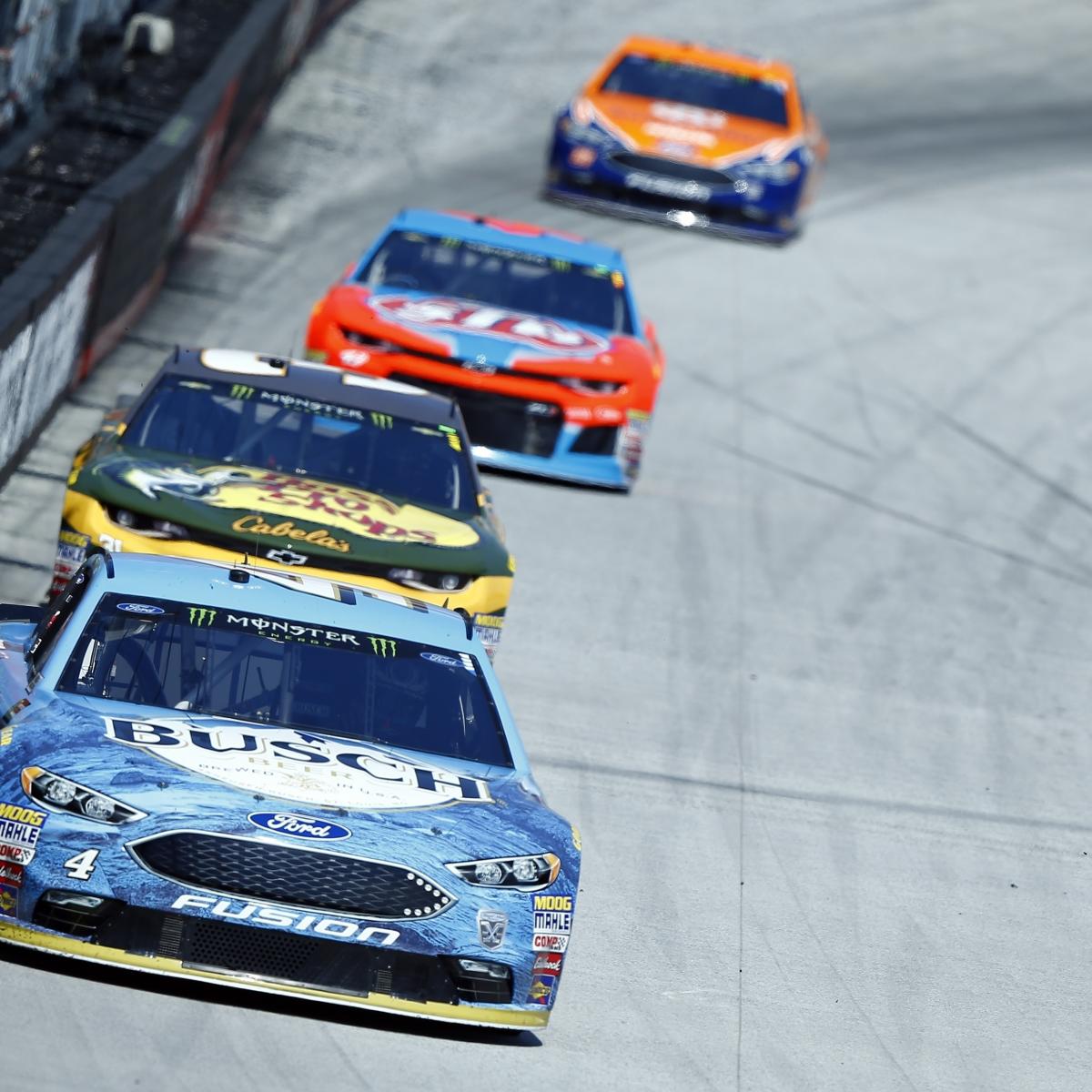 Wade Payne/Associated Press
A cool $1 million hangs in the balance for some of the best drivers in the Monster Energy NASCAR Cup Series' All-Star Race on Saturday. 
NASCAR is once again switching up some of the finer details of the race in the hopes it's more entertaining as drivers pull off more passes with so much at stake. Remember, a few years ago the All-Star race tested the stage-based format fans have come to know and enjoy during the regular season. 
With a lineup featuring race winners over the past few seasons and automatic bids earned hours earlier in the Monster Energy Open, there's plenty of reason to believe this will be another classic event featuring top names. 
Here's a look at everything to know. 
Viewing Details
Where: Charlotte Motor Speedway
When: Saturday, May 19, at 8 p.m. ET
Watch: Fox Sports 1
Live Stream: Fox Sports Go
Tickets: StubHub.com
Lineup
Ryan Blaney
Clint Bowyer
Kurt Busch
Austin Dillon
Denny Hamlin
Jimmie Johnson
Kasey Kahne
Matt Kenseth
Brad Keselowski
Kyle Larson
Joey Logano
Jamie McMurray
Ryan Newman
Ricky Stenhouse Jr.
Martin Truex Jr.
2018 Monster Energy NASCAR Cup Standings
1. Kevin Harvick
484
2. Kyle Busch
503
3. Joey Logano
491
4. Clint Bowyer
406
5. Martin Truex Jr.
376
6. Austin Dillon
241
7. Brad Keselowski
396
8. Kurt Busch
393
9. Denny Hamlin
380
10. Ryan Blaney
365
11. Aric Almirola
342
12. Kyle Larson
336
13. Jimmie Johnson
286
14. Erik Jones
285
15. Alex Bowman
271
16. Chase Elliott
266
ESPN.com.
Format and Preview 

Steve Helber/Associated Press
NASCAR is standing pat with its four-stage format this year. Stage 1 lasts for 30 laps, Stage 2 ends at the 50th lap and Stage 3 at the 70th—meaning a 10-lap sprint to close the event with $1 million at stake. 
Different is the fact this year's version runs 10 laps longer than a year ago. There aren't any mandatory stops, eliminations or shuffling of the order either. 
But the biggest change comes in the form of the aero package. Charlotte Motor Speedway's 1.5 miles will feature restrictor plates for the first time. Meaning, less horsepower, a closer field and more passes and potential thrilling slingshots as drivers jockey for position. 
"A lot of that depends on how the cautions fall and how this new aero package uses the tires," Joe Gibbs Racing crew chief Adam Stevens said, according to NASCAR.com's Chase Wilhelm. "It's a new tire combination, as well. There's so many unknowns, it's almost impossible to predict."
What is predictable? Some of the drivers bound to be in contention. Kevin Harvick is just having fun toying with the field at this point. He won three races in a row earlier in the season and has two more consecutive wins under his belt. 
As Stewart-Haas Racing pointed out, Harvick has now placed himself alongside Jeff Gordon: 
Stewart-Haas Racing @StewartHaasRcng

.@KevinHarvick is the first driver to notch five wins in the first 12 races of the season since @JeffGordonWeb in 1997. We think Gordon did alright that year. 😉

#SHRacing10Yrs https://t.co/vXDtG6iwJn
Then there's Kyle Busch, the other three-race winner already this season. He won this event a year ago as well, so he's bound to be in contention late, restrictor plates or not. 
For others, this weekend's main event is a way to keep trying new things in an effort to build some regular-season momentum. Impacted by changes to spoilers this year, Martin Truex Jr. is one guy still looking for a breakthrough. 
"We would definitely like to have more than we have at this moment," Truex said, according to ESPN.com's Bob Pockrass. "We had a tough stretch of races where maybe we had a chance of getting some of those. We're off just a tick right now and still just trying to get dialed in."
Designed to entertain while paving the way for future changes to the series itself, the All-Star race will once again accomplish both feats at once with a huge assist from talented drivers with unique storylines treating this like an event they need to win. 
Stats and info courtesy of ESPN.com unless otherwise specified.
Car Racing
via Bleacher Report – NASCAR http://bleacherreport.com
May 18, 2018 at 02:13PM
https://img.bleacherreport.net/img/images/photos/003/742/355/hi-res-52f6a10cc0e47fd1e88a76d138622775_crop_exact.jpg?w=1200&h=1200&q=75