Smiley claims maiden BTCC victory in final Rockingham race
Smiley claims maiden BTCC victory in final Rockingham race
https://www.autosport.com/btcc/news/137989/smiley-claims-maiden-win-in-rockingham-finale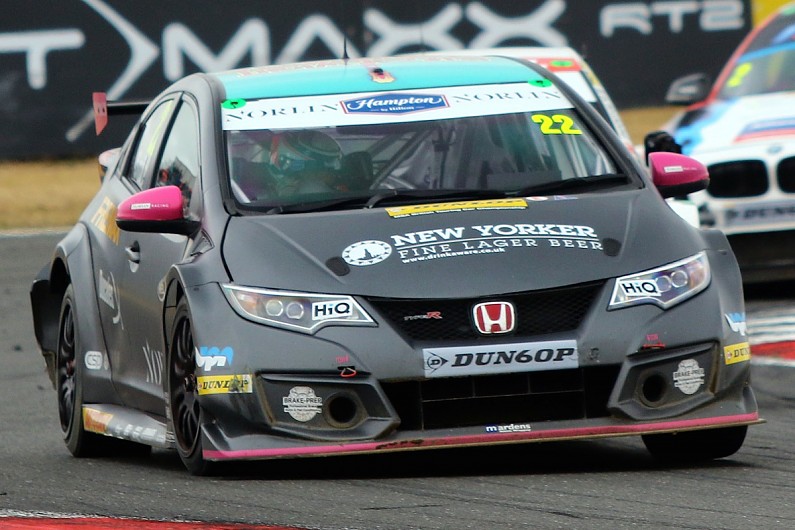 Chris Smiley won the final British Touring Car Championship race of the weekend at Rockingham to break his victory duck in the BTC Norlin Honda Civic.
The Northern Irishman snatched the lead at the first run through the hairpin – which was slipper after a pre-race shower – when polesitter Tom Chilton (Motorbase Performance Ford Focus) was first to approach the corner and ran wide.
He was followed onto the grass by Matt Simpson (Eurotech Racing Honda Civic Type R) and Team Hard Volkswagen CC driver Mike Bushell. Reigning champion and race two winner Ash Sutton also ran off the road and was delayed in his Team BMR Subaru Levorg.
Smiley took charge and was pursued by Rory Butcher in the AmD Tuning MG6 until lap 10, when the Scot slid off at the Deene hairpin, leaving Smiley a clear run to the finish.
"This has been such a long time coming," said Smiley. "I am over the moon, and I have worked so hard to get here. I can't thank the team enough."
With Butcher rejoining in sixth, second place was only decided at the very last corner as Colin Turkington's WSR BMW 125i M Sport capitalised on Simpson, who had recovered from his earlier slip, running wide at the Brook chicane.
Turkington launched his car up the inside and beat Simpson off the corner, with the Motorbase Performance Ford Focus of Sam Tordoff narrowly missing out on grabbing a first podium of the season too from Simpson.
Turkington said he had gone into the race with an aggressive strategy: "I was concerned about the rain, because those aren't the best conditions for a rear-wheel-drive car, but I had to go for it.
"I took calculated risks and it was a race of patience. I could see Simpson's tyres had gone off by the end, and I pounced."
Behind Tordoff in fourth, Tom Ingram grabbed an unchallenged fifth. Butcher followed, while one of the drives of the race came from Team Hard VW CC man Bobby Thompson, who advanced from 28th to seventh.
The top 10 was rounded out by race one winner Adam Morgan (Ciceley Racing Mercedes-Benz A-Class), Ollie Jackson's AmD Tuning Audi and the Team Dynamics Honda Civic Type R of Dan Cammish.
The results of the weekend's three races mean that Turkington leads the standings by four points from Ingram. Reigning champion Sutton is 32 points adrift in third.
Result – 16 laps
| Pos | Driver | Team | Car | Gap |
| --- | --- | --- | --- | --- |
| 1 | Chris Smiley | BTC Norlin | Honda | 23m56.878s |
| 2 | Colin Turkington | WSR | BMW | 3.563s |
| 3 | Matt Simpson | Eurotech Racing | Honda | 5.156s |
| 4 | Sam Tordoff | Motorbase | Ford | 5.187s |
| 5 | Tom Ingram | Speedworks | Toyota | 5.305s |
| 6 | Rory Butcher | AmD Tuning | MG | 9.781s |
| 7 | Bobby Thompson | Team Hard | Volkswagen | 12.970s |
| 8 | Adam Morgan | Ciceley Motorsport | Mercedes | 17.083s |
| 9 | Ollie Jackson | AmD Tuning | Audi | 17.811s |
| 10 | Dan Cammish | Team Dynamics | Honda | 18.060s |
| 11 | Jason Plato | Team BMR | Subaru | 18.420s |
| 12 | Josh Cook | Power Maxed Racing | Vauxhall | 19.323s |
| 13 | Tom Oliphant | Ciceley Motorsport | Mercedes | 20.542s |
| 14 | Senna Proctor | Power Maxed Racing | Vauxhall | 20.954s |
| 15 | Matt Neal | Team Dynamics | Honda | 21.223s |
| 16 | Stephen Jelley | Team Parker Racing | BMW | 21.956s |
| 17 | Ash Sutton | Team BMR | Subaru | 22.818s |
| 18 | Rob Austin | HMS Racing | Alfa Romeo | 23.217s |
| 19 | Jack Goff | Eurotech Racing | Honda | 23.424s |
| 20 | Mike Bushell | Team Hard | Volkswagen | 24.171s |
| 21 | Aiden Moffat | Laser Tools Racing | Mercedes | 28.183s |
| 22 | Ollie Pidgley | Team Hard | Volkswagen | 37.111s |
| – | Glynn Geddie | AmD Tuning | MG | Retirement |
| – | Sam Smelt | AmD Tuning | Audi | Retirement |
| – | Daniel Lloyd | BTC Norlin | Honda | Retirement |
| – | James Cole | Motorbase | Ford | Retirement |
| – | Tom Chilton | Motorbase | Ford | Retirement |
| – | Andrew Jordan | WSR | BMW | Retirement |
| – | Michael Caine | Team Hard | Volkswagen | Retirement |
| – | Brett Smith | Eurotech Racing | Honda | Retirement |
| – | Ricky Collard | WSR | BMW | Retirement |
Drivers' standings
| Pos | Driver | Points |
| --- | --- | --- |
| 1 | Colin Turkington | 220 |
| 2 | Tom Ingram | 216 |
| 3 | Ash Sutton | 188 |
| 4 | Jack Goff | 176 |
| 5 | Matt Neal | 176 |
| 6 | Adam Morgan | 169 |
| 7 | Tom Chilton | 169 |
| 8 | Josh Cook | 166 |
| 9 | Andrew Jordan | 161 |
| 10 | Senna Proctor | 130 |
| 11 | Dan Cammish | 129 |
| 12 | Sam Tordoff | 128 |
| 13 | Chris Smiley | 125 |
| 14 | Matt Simpson | 98 |
| 15 | Rob Collard | 86 |
| 16 | Rob Austin | 72 |
| 17 | Rory Butcher | 71 |
| 18 | Daniel Lloyd | 59 |
| 19 | James Cole | 59 |
| 20 | Aiden Moffat | 58 |
| 21 | Ollie Jackson | 54 |
| 22 | Mike Bushell | 48 |
| 23 | Brett Smith | 43 |
| 24 | Tom Oliphant | 38 |
| 25 | Jake Hill | 29 |
| 26 | Jason Plato | 26 |
| 27 | Bobby Thompson | 23 |
| 28 | Tom Boardman | 14 |
| 29 | Ant Whorton-Eales | 6 |
| 30 | James Nash | 6 |
| 31 | Stephen Jelley | 2 |
| 32 | Michael Caine | 0 |
| 33 | Daniel Welch | 0 |
| 34 | Sam Smelt | 0 |
| 35 | Josh Price | 0 |
| 36 | Glynn Geddie | 0 |
| 37 | Ollie Pidgley | 0 |
| 38 | Ricky Collard | 0 |
Car Racing
via All news – Autosport https://www.autosport.com
August 12, 2018 at 08:06PM
https://d2d0b2rxqzh1q5.cloudfront.net/sv/2.183/dir/6a4/image/6a488b5aa23d3fe7431cf6ff12c5985f.jpg