Daniel Abt gewinnt innovatives Format "Battle of the Ring"
Daniel Abt gewinnt innovatives Format "Battle of the Ring"
https://www.motorsport-total.com/games/news/daniel-abt-gewinnt-innovatives-format-battle-of-the-ring-18091502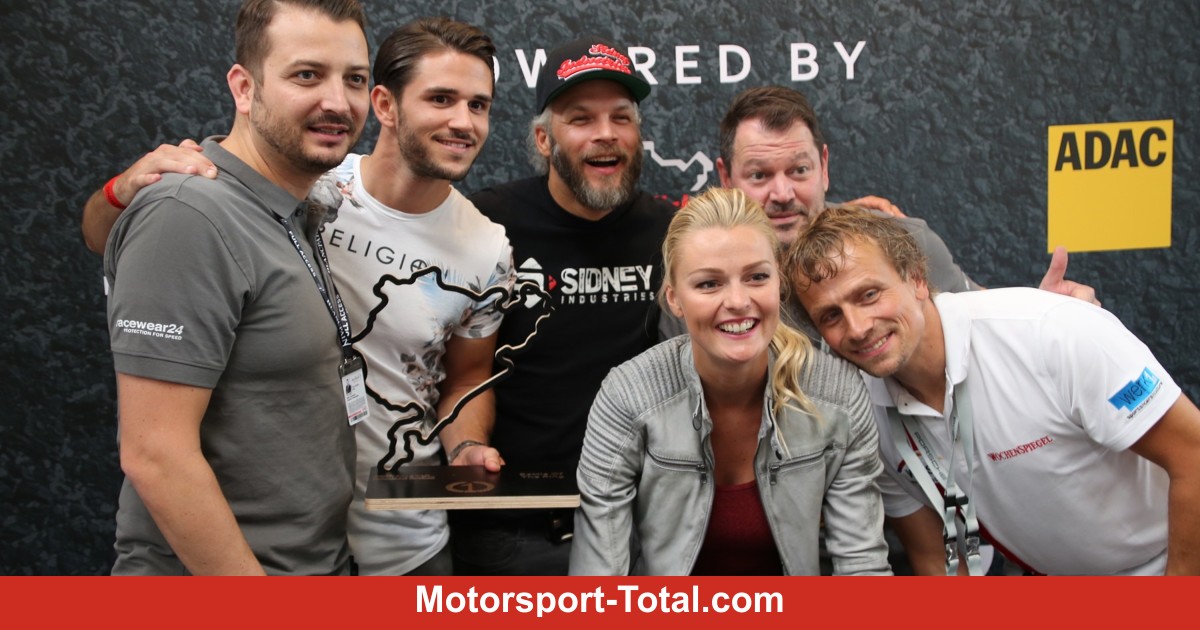 Die vier Teilnehmer mit ADAC-Simracing-Expo-Initiator Marc Hennerici (l.)
(Motorsport-Total.com) – Vier grundverschiedene Disziplinen, vier prominente Kandidaten, ein Sieger: Formel-E-Pilot Daniel Abt ist der erste Sieger des "Battle of the Ring". Im Rahmen der ADAC Simracing Expo am Nürburgring setzte sich der Formel-E-Pilot in einem innovativen Wettbewerb gegen Nürburgring-Profi Christian Menzel, "PS-Profi" Sidney Hoffmann und "Grip"-Moderatorin Mirian Höller durch.
Es galt für die vier Kandidaten, sich in vier Disziplinen zu messen: Einem Drift-Wettbewerb in einem Porsche 911 GT3, einer virtuellen Zeitenjagd im Porsche-Simulator und Wettbewerben mit ferngesteuerten Autos sowie Slotcars (im Volksmund: Carrera-Bahn). Nach dem Punkteschema 4-3-2-1 je Disziplin wurde um den Titel gefahren.
Zum ersten Schlagabtausch trafen sich die vier Akteure zum Driftwettbewerb auf dem Fahrsicherheitszentrum des Nürburgrings. Es ging darum, einen möglichst sauberen Drift vorzuexerzieren. Natürlich setzten sich hier die Profi-Fahrer Abt und Menzel durch, die in dieser Disziplin auf einen Erfahrungsvorteil und holten sich daher souverän die ersten Punkte ab.
Am Samstagvormittag ging es dann weiter im Simulator. Virtuell befahren wurde die Nürburgring-Grand-Prix-Strecke mit einem Porsche 911 GT3 R. Souverän zeigte Daniel Abt, der sonst in Formelfahrzeugen zu Hause ist, seine Vielseitigkeit und holte sich die Bestzeit vor Christian Menzel., während sich Sidney Hoffmann gegen Miriam Höller durchsetzen konnte.
In der dritten Disziplin wurde das Lenkrad dann gegen einen Handregler getauscht: Auf der Carrera-Bahn wurden die Karten neu gemischt, denn hier hatten die aktiven Motorsportler keinen Vorteil mehr. Und es kam, wie es kommen musste: Im Slotcar-Racing bewies Hoffmann das beste Feingefühl und holte sich den Sieg vor Höller, während die beiden Vollprofis in die Röhre schauten. "Der fuhr drei Runden fehlerfrei, wo wir wie Idioten ausgesehen und das Auto laufend rausgehauen haben", ärgert sich Menzel.
Zum Schluss ging es dann auf den RC-Car-Parcours, wo Miriam Höller triumphierte und sich so noch drei Punkte abholte. Das reichte aber nicht mehr, um in der Gesamtwertung noch Boden gut zu machen. In dieser setzte sich Daniel Abt mit einem Punkt Vorsprung vor Christian Menzel durch.
Endergebnis "Battle of the Ring":
1. Daniel Abt, 8 Punkte
2. Christian Menzel, 7
3. Sidney Hoffmann, 5
4. Mirian Höller, 4
Car Racing
via Motorsport-Total.com http://www.motorsport-total.com
September 15, 2018 at 11:06PM
https://www.motorsport-total.com/img/sm/204103_mst.jpg?rf=1537040612