F1: Singapore Grand Prix – live!
F1: Singapore Grand Prix – live!
https://www.theguardian.com/sport/live/2018/sep/16/f1-singapore-grand-prix-live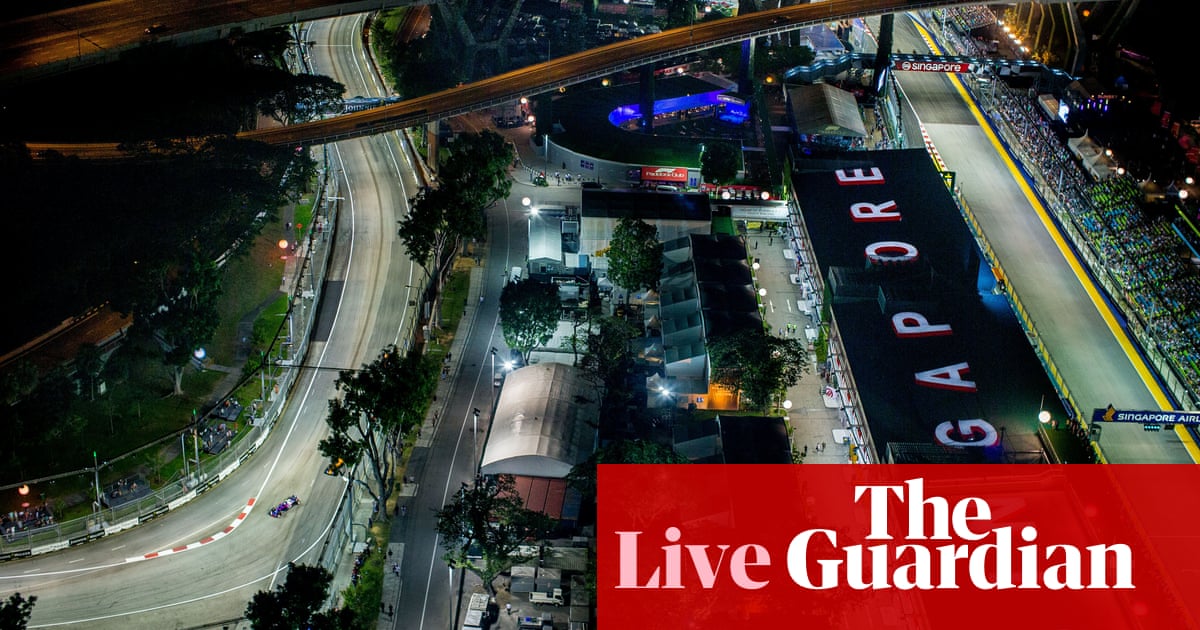 It's 29 degrees out in Singapore, so plenty of the drivers – from Räikkönen to Ricciardo – have been sinking into ice baths over the past couple of days. One of the biggest challenges around the circuit will be that heat and humidity, almost 70%, though Hamilton made pretty light work of one of the toughest tracks to navigate.
The pre-cursor to the main event in Singapore was, of course, Liam Gallagher taking centre stage before qualifying. The Oasis singer dedicated Some Might Say to none other than Lewis Hamilton, with the Mercedes driver proceeding to record a memorable pole. Post-pole, The Killers performed, while Jimmy Carr has been parading around the Mercedes paddock today. All fun and games.
Updated

Alain Prost, the four-times F1 champion, is back at the heart of the sport as a special adviser to Renault. As he tells Giles Richards, being an outsider battling against the odds is a key motivating factor:
The grid!
1 Hamilton 2 Verstappen
3 Vettel 4 Bottas
5 Räikkönen 6 Ricciardo
7 Pérez 8 Grosjean
9 Ocon 10 Hülkenberg
11 Alonso 12 Sainz
13 Leclerc 14 Ericsson
15 Gasly 16 Magnussen
17 Hartley 18 Vandoorne
19 Sirotkin 20 Stroll
Preamble
Lewis Hamilton turned on the style early on in qualifying, smashing the track record with a magical first lap around the spectacular Marina Bay circuit, meaning the rest of Saturday's action made pretty comfortable viewing as he put his feet up. It could prove a lap and a pole that just gives Hamilton the chance to accelerate from Sebastian Vettel, the Ferrari who trails him by 30 points in the drivers' standings and could only manage third. The Red Bull of Max Verstappen, meanwhile, managed to join the Brit on the front of the grid. Hamilton's lap left Vettel reeling, Toto Wolff, the Mercedes team principal lost for words and his longtime race engineer, Peter Bonnington, absolutely ecstatic. "That was pretty epic," he beamed after watching Hamilton whizz around in 1min 36.015sec. As for Hamilton, he said: "That lap started perfect and it just kept going. It felt like one of the best – if not the best lap I've ever done. It is the most challenging circuit for us – it is Monaco on steroids."
Lights out: 1.10pm (BST)
Car Racing
via Formula One | The Guardian https://www.theguardian.com/sport/formulaone
September 16, 2018 at 02:15PM
https://i.guim.co.uk/img/media/9ea62cef6f4f0321637f2c7cf4feffdf49c12a69/0_243_4096_2458/master/4096.jpg?width=1200&height=630&quality=85&auto=format&usm=12&fit=crop&crop=faces%2Centropy&bm=normal&ba=bottom%2Cleft&blend64=aHR0cHM6Ly9hc3NldHMuZ3VpbS5jby51ay9pbWFnZXMvb3ZlcmxheXMvZmQ2MTg4YTJlMWFhNThmNWM5Y2VkODlkNjQxOWU1OTgvdGctbGl2ZS5wbmc&s=dfb27ba17a20cf0ccc4e8526f5eb3be2