DTM Hockenheim: Paul di Resta hits out at Robin Frijns after clash
DTM Hockenheim: Paul di Resta hits out at Robin Frijns after clash
https://www.autosport.com/dtm/news/139368/di-resta-hits-out-at-frijns-after-clash
DTM title contender Paul di Resta says a "brain fade" from Robin Frijns cost him dearly in the penultimate race of the 2018 season at Hockenheim.
Frijns launched his Audi down the inside of di Resta at the hairpin for fifth place on the sixth lap, and ended up barging the Mercedes man out of the way.
The Dutchman was ordered to give the position back, as he and di Resta remained in the thick of battle – but while Frijns would eventually charge to second, the Scotsman faded to eighth after a late safety car restart.
Di Resta, who will thus head into the Sunday decider six points off Mercedes stablemate Gary Paffett and nine ahead of Audi's lead driver Rene Rast, was critical of Frijns post-race.
"I don't think there's much to say, Frijns destroyed it [my race]," di Resta said. "That was as simple as that.
"He had a brain fade and was trying something that wasn't there. And then he gets told to let the position by, but by that point he'd ripped the front end off the car.
"I had no front bumper left. And the steering was bent.
"I don't really expect any less from him, to be honest."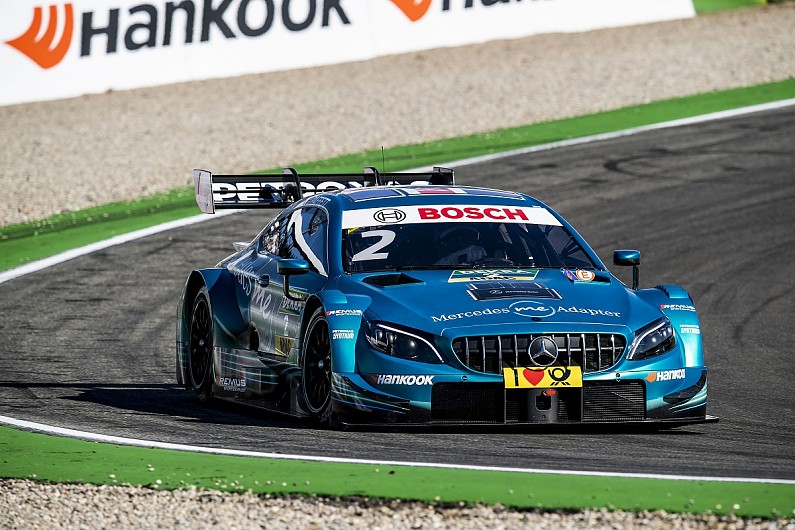 Paffett, who battled Rast for the race win but dropped down to fourth late on, likewise had a grievance after the race – albeit his was relating to track conditions.
Di Resta and Marco Wittmann had kicked massive amounts of dust onto the track by running wide after the late safety car restart, and the fact the race was not interrupted for clean-up left Paffett incensed.
"It's so dangerous, so dangerous," he ranted to his team after taking the chequered flag.
"They brought a safety car for a little bit of debris [when Augusto Farfus lost a left-side door], but not a safety car when there's fucking shit all over the track!"
Speaking to media after the race, he elaborated: "Someone had gone off the track at exit of Turn 4, before the Parabolica, and dragged so much dirt on the track – and honestly, going down to Turn 6 it was like wet.
"And the dust continued all the way around Turn 13, to Sachskurve. Even the Sachskurve, when we braked the first time after the dust, we nearly didn't stop.
"The conditions were actually dangerous, they were actually pretty dangerous at that point and we all did pretty well to stay on the track.
"If you look at the shape of some of the cars, they were getting pretty sideways and stuff, it was pretty difficult."
Paffett reckoned the track conditions contributed to him losing out to Frijns and Timo Glock late on, since as a title contender he was driving more conservatively.
"I think in that position it was probably a case of me wanting to take risk less than the others.
"I saw Timo, when he came past me, was really out of shape and nearly lost the car – and I was probably less willing to take that much risk than other people."
Car Racing
via All news – Autosport https://www.autosport.com
October 13, 2018 at 07:32PM
https://d2d0b2rxqzh1q5.cloudfront.net/sv/2.183/dir/679/image/6799949d90ac8bc43bceb0e2d8dbab19.jpg