Brazilian GP: Lewis Hamilton beaten by Valtteri Bottas in practice
Brazilian GP: Lewis Hamilton beaten by Valtteri Bottas in practice
http://www.bbc.co.uk/sport/formula1/46158408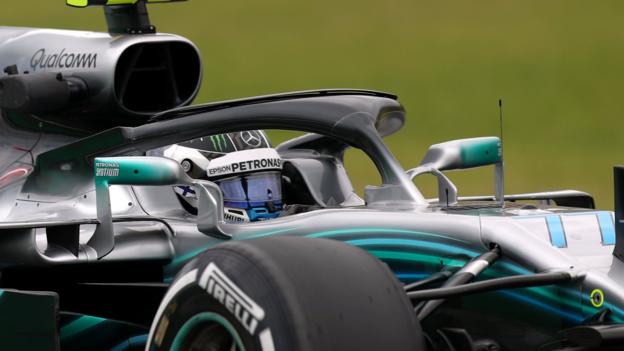 Valtteri Bottas led Lewis Hamilton to a Mercedes one-two in second practice at the Brazilian Grand Prix.
Bottas was just 0.003secs quicker than Hamilton, and Ferrari's Sebastian Vettel was just 0.073secs off the pace in third.
But Ferrari, who still have hopes of wresting the constructors' championship from Mercedes, showed much stronger pace in race trim.
Renault's Nico Hulkenberg had a heavy crash at the tricky Juncao corner.
The tight left-hander is one of the most important bends on the track, as it leads on to the long, uphill pit straight. Hulkenberg ran a little wide and kept his foot down as the car ran off the kerb on to the grass, which pitched him into the wall.
The incident brought out the red flag for six minutes as the wreckage was cleared.
It was the only major incident in the session.
The Red Bulls of Daniel Ricciardo and Max Verstappen were fourth and fifth, ahead of Ferrari's Kimi Raikkonen, with Haas' Romain Grosjean best of the rest ahead of Sauber's Charles Leclerc.
The champion's not happy
Hamilton, who is determined to win after clinching the championship early for the first time in his career, did not sound satisfied with the Mercedes' performance, complaining about tyres over the radio to the team a number of times through the session.
Although Mercedes had a slight edge on one-lap pace, Hamilton's speed on the race-simulation runs was worrying – Vettel was on average about 0.5secs a lap faster.
But the Ferrari was also struggling with tyres – Vettel's rear tyres displayed blisters on long runs on both the super-soft and soft tyres.
Mercedes are in a strong position in the constructors' championship – they will win it on Sunday, a race early, as long as Ferrari do not score 12 more points than them.
But they are concerned about their slip in pace since Hamilton's victory in the Japanese Grand Prix and are keen to return to winning ways and to ensure they understand what happened in the previous two races in Austin and, particularly, Mexico.
Car Racing
via BBC Sport – Formula 1 http://www.bbc.co.uk/sport/
November 9, 2018 at 08:36PM
http://c.files.bbci.co.uk/AB8B/production/_104251934_bottas_reuters.jpg