Formel 1 Brasilien 2018: Verstappen vor Vettel Schnellster
Formel 1 Brasilien 2018: Verstappen vor Vettel Schnellster
https://www.motorsport-total.com/formel-1/news/formel-1-brasilien-2018-verstappen-vor-vettel-schnellster-18110909
(Motorsport-Total.com) – Max Verstappen (Red Bull) sicherte sich die Bestzeit im ersten Freien Training zum Grand Prix von Brasilien in Sao Paulo. Der Niederländer blieb im Autodromo Jose Carlos Pace von Interlagos um 0,049 Sekunden vor Sebastian Vettel (Ferrari) und hatte auf den drittplatzierten Lewis Hamilton (Mercedes) 0,096 Sekunden Vorsprung.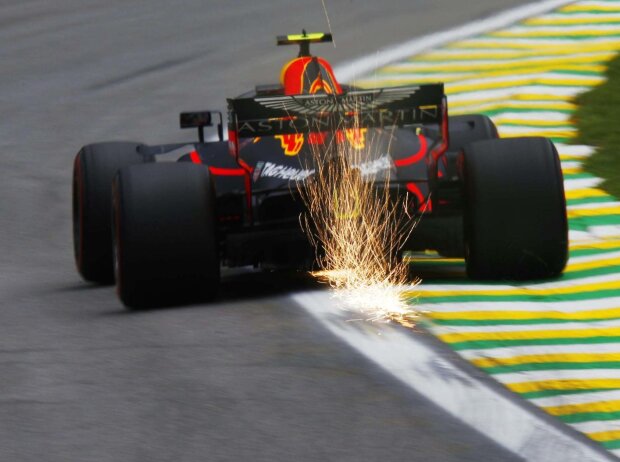 © Sutton
Max Verstappen sicherte sich die Bestzeit im ersten Freien Training in Interlagos Zoom
Für Daniel Ricciardo (Red Bull) beginnt das Rennwochenende übrigens mit einem Rückschlag. Wegen eines weiteren Turbolader-Wechsels muss er in der Startaufstellung am Sonntag um fünf Positionen nach hinten. Er belegte den vierten Platz.
Vor Kimi Räikkönen (Ferrari) und Valtteri Bottas (Mercedes), die die Top 6 abrundeten. Das Haas-Team war in FT1 "Best of the Rest" und sicherte sich die Positionen sieben und acht.
Nico Hülkenberg (Renault) wurde Zwölfter.
Seite neu laden: Ausführlicher Sessionbericht folgt in Kürze an dieser Stelle!
Car Racing
via Motorsport-Total.com http://www.motorsport-total.com
November 9, 2018 at 04:34PM
https://www.motorsport-total.com/img/sm/206801_mst.jpg?rf=1541773813