Den "Kill Switch" überlebt: Haas trotz Schlappe gegen Sauber nicht enttäuscht
Den "Kill Switch" überlebt: Haas trotz Schlappe gegen Sauber nicht enttäuscht
https://www.motorsport-total.com/formel-1/news/den-kill-switch-ueberlebt-haas-trotz-schlappe-gegen-sauber-nicht-enttaeuscht-18111101
(Motorsport-Total.com) – Viele Formel-1-Experten hätten nach den starken Trainingseindrücken der Haas-Mannschaft beim Brasilien-Grand-Prix (Formel 1 2018 live im Ticker!) wohl eine Menge Geld darauf gesetzt, dass die US-Amerikaner auch im Qualifying "Best of the Rest" sein würden. Pustekuchen! Es setzte eine deftige Schlappe gegen Sauber. Romain Grosjean wurde nur Neunter, Kevin Magnussen Elfter.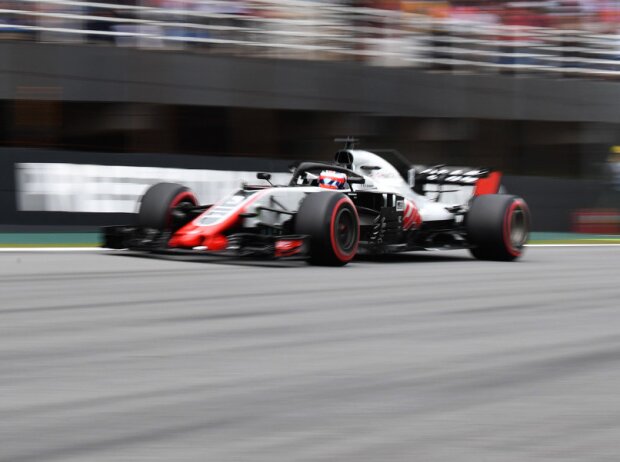 © Sutton
Romain Grosjean hätte sich beinahe zum Depp des Tages gemacht Zoom
Der Franzose bemüht sich, es positiv zu sehen: "Ich bin froh, dass ich es überhaupt in Q3 geschafft habe, denn ich hatte in Q2 eine Schrecksekunde", sagt Grosjean, der in der dritten Kurve den Randstein (angeblich nicht zu hart) überfuhr und einen Knopf zum Abschalten des Antriebsstrangs auslöste. Der sogenannte Kill Switch wurde tatsächlich aktiviert, er konnte den Motor aber neu starten.
Nach einem Check an der Box ging es wieder auf Zeitenjagd. "Ich habe mir Sorgen gemacht, denn es fing langsam an zu regnen", sagt Grosjean, dem nur ein Versuch blieb, um sich unter die Top 10 zu schieben. "Die Runde war aber großartig und das Auto fühlte sich toll an. In Q3 war die Balance aber nicht die gleiche. Ich hatte zu viel Untersteuern und konnte nicht mehr alles herausholen."
Das erklärte Ziel, Sauber zu schlagen, verfehlte er. "Seit Paul Ricard sind sie einfach schnell", relativiert Grosjean mit Blick auf die Schweizer. "Sie haben viele Updates bekommen. Sie leisten gute Arbeit, verbessern ihr Auto und sind für die Konkurrenten im Mittelfeld eine harte Nuss geworden."
Teamkollege Magnussen hat mehr damit zu tun, mit dem Schicksal zu hadern. "Ich bin sehr enttäuscht", meint der Däne. "Als es in Q2 am stärksten geregnet hat, waren wir auf der Strecke. Man versucht alles, um zur richtigen Zeit draußen zu sein – nur wann es regnet, kann man nicht wissen." So verdrängte Charles Leclerc ihn in letzter Sekunde aus den Top 10. "Schade, denn wir hatten heute ein sehr gutes Auto. Romain und ich hätten locker 'Best of the Rest' sein können. Es nervt."
Teamchef Günther Steiner meint, dass es trotzdem "ein gutes Qualifying" gewesen wäre. "Wir waren nur zur falschen Zeit am falschen Ort, aber das passiert bei solchen Wetterschwankungen."
Weiteres Ärgernis für Magnussen: Die Rennleitung verwarnte ihn, weil er auf seiner Inlap nach Q2 das zulässige Maximum von 145 Prozent der Referenzzeit überschritten hatte. Dass es keine härtere Strafe hagelte, hatte er dem Fakt zu verdanken, dass es angefangen hatte zu regnen und er niemanden behindert hatte. Für Steiner ist die Entscheidung dennoch unverständlich: "Er hat gesagt, dass es nass wäre und er auf Slicks fahren würde. Was sollte er also tun?", fragt sich der Teamchef.
Car Racing
via Formel 1 bei Motorsport-Total.com http://www.motorsport-total.com
November 11, 2018 at 01:40AM
https://www.motorsport-total.com/img/sm/206882_mst.jpg?rf=1541893183