Promoted: Check out the Ad Diriyah ABB FIA Formula E E-Prix circuit
Promoted: Check out the Ad Diriyah ABB FIA Formula E E-Prix circuit
https://www.autosport.com/fe/news/140607/promoted-check-out-the-ad-diriyah-eprix-circuit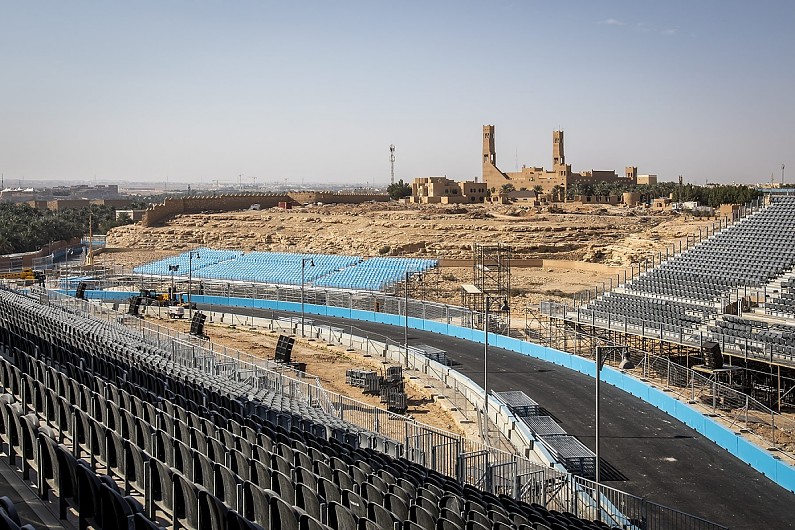 As the 2018/19 ABB FIA Formula E Championship season begins with the 'Saudia' Ad Diriyah E-Prix this weekend, here's a look at the brand new circuit that will host the event.
His Royal Highness Prince Abdulaziz bin Turki AlFaisal Al Saud, Vice-Chair of the Saudi Arabia General Sports Authority; His Royal Highness Prince Khalid bin Sultan Al Faisal Al Saud, President of the Saudi Arabian Motor Federation; and Carlo Boutagy of race promoter CBX gave journalists a very special tour of the Ad Diriyah track, soon to be the battleground for 22 Formula E drivers from 11 teams competing in what will be the season opener for the ABB FIA Formula E Championship.
Prince Abdulaziz told journalists: "Formula E in Saudi Arabia feels very real today. In just a few days, the world's most modern motorsport will thrill crowds here in the heart of Saudi Arabia at this stunning UNESCO heritage site which honours the Kingdom's past.
"That is amazing in itself but take a look at what has been created off the track, the ambition of this partnership to bring the 'Saudia' Ad Diriyah E Prix to life is nothing short of inspiring.
"Remember, this isn't just a single race, this is the biggest festival of sport, music, entertainment and culture the Kingdom has ever seen, including six huge global acts performing here for the very first time.
"This is an exclusive event. Fans need to know the only way they can be part of this unforgettable experience is to buy their tickets.
"That is their key to unlocking the most amazing three days. The entire Ad Diriyah site, however, will be accessible only to ticket holders, so if you don't want to miss out, get your ticket now."
Media were taken around the 2,495-metre track, comprising 21 turns, with the existing road network upgraded to meet demanding Federation Internationale de l'Automobile (FIA) standards to allow Formula E racing to take place safely.
This work was also performed in close collaboration with UNESCO and the Diriyah Gate Development Authority to ensure that Ad Diriyah's heritage is conserved for future generations.
The Ad Diriyah Formula E site will also have huge stands that will accommodate tens of thousands of fans on the race day, the concert arena for the three nights, an E Village entertainment area, plus cultural and heritage zones for families.
Car Racing
via All news – Autosport https://www.autosport.com
December 10, 2018 at 09:00PM
https://d2d0b2rxqzh1q5.cloudfront.net/sv/1.67/dir/449/image/4494cebdac303bb6080d9b68b8362e2b.jpg